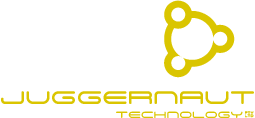 Suite 14b Greenhill Enterprise Centre,
University Drive, Mt Helen Victoria
PO Box 175, Buninyong Victoria 3357
Tel: 03 5309 0494 Fax: 03 5309 0495
Email: ra@juggernaut.com.au
How do visitors use a web site?
Visitors to a web site have some goal in mind. Whether that goal is to find out about a product, buy the product or merely be entertained, they will use the site in whatever way they believe will help them achieve their goal.
How visitors read pages
There have been several studies into the way visitors read the web page. The results consistently show that pages aren't read, they are scanned. Visitors will glance over the page looking for snippets of information which offer directions to their goal.
This behaviour allows visitors to be influenced by the placement and design of navigational aids on the page. These aids can range from using a flashy graphic to draw the eye to a particular area to simply making interesting phrases bold. The standard HTML heading styles are particularly well-designed to capture the interest of visitors.
How visitors navigate between pages
The richness of hypertext ensures that surfing the web is not a linear experience. Users can open pages in a new window, can backtrack and can jump into the middle of a site from a search engine. The more familiar the visitor is with the web the more likely it is that they will be using these advanced browsing techniques.
And the rub is that the more familiar the visitor is with the web the more likely they are to be using it for serious research and shopping. These experienced users are the people most likely to contribute to the revenue stream generated by the web site.
Another factor to be considered is the ever-present Back button. This is the second-most used feature of the web (the most used feature is of course the text hyperlink). If the visitor determines that they have taken the wrong turn on their search for their goal, they will click the back button and try another path.
The uncomfortable Big Picture
This picture of the typical web site visitor is starting to look decidedly uncomfortable. Our web site is possibly only one of several open browser sessions, the visitors don't even read the web page and they keep their mouse hovering over the back button. How on earth can a site succeed in the face of such cantankerous visitors?
Forward to find out how to build a successful web site
Back to the Web site design contents page
Back to the Juggernaut home page